EXCITING NEWS

Check out a new challenge blog starting today, for those of us that love Sarah Kay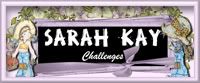 They have this fabulous stamp up for grabs, and if you already have this one Donna (CraftyKrafts) will swap it with one you don't have.
So go and check them out NOW and leave a comment.
Im really excited about this new challenge, as I'm sure you will be too.